Inclusive GymBad is Shuttle Time's Project of the Month (POTM) for October 2021
Badminton Oceania (BOC) and Badminton Papua New Guinea (BPNG) have been collaborating to deliver the Inclusive GymBad programme, together with Oceania Gymnastics Union, Papua New Guinea Gymnastics Federation and Motivation Australia.
Inclusive GymBad aims to remove or reduce the barriers experienced by people with a disability – particularly women and girls – to participate equally.  Activities involve inclusion programs from the sports of gymnastics and badminton:
GymAbility is a gymnastics-based movement programme designed to suit all levels of physical and mental abilities.
Shuttle Time lessons are designed to provide participants of all abilities a positive image of badminton through many opportunities to have fun, engage with others and experience success.
Inclusive GymBad is part of 'Team Up'; the Australian Government's 'sport for development' program across the Asia-Pacific region, comprising more than 30 partnerships working towards sustainable development goals.
How did GymBad come alive?
The Pacific Sports Partnership (PSP) was a 'sport for development' initiative launched by the Australian Government. It has since evolved into the 'Team Up' program.
It originally started with the more popular sports in Australia (football, netball and rugby) and later incorporated other sports like badminton.
In 2017/18, there was an opportunity to do an innovation programme, so badminton teamed up with table tennis, which had chosen to focus on disability (a point of difference), to conduct a study on 'how to reduce the barriers for peoples with disabilities in the Pacific' and how to make sports programmes more inclusive.
The importance of smaller sports getting together to target particular audiences and share resources became a successful trend. GymBad was another product which offered a point of difference and a chance for sports to work together; gymnastics and badminton can be easily modified and are accessible to all.
This is complemented by the adapted Shuttle Time resources. Recently released by the BWF, they have a greater inclusivity element in the teacher's manual and inclusivity guide for teachers. Now, during training, teachers are taught to teach the ways of making Shuttle Time/GymBad sessions more inclusive through developing inclusive practices, preparing for those with intellectual, physical or sensory impairments and adapting badminton to disabilities, communication and creativity.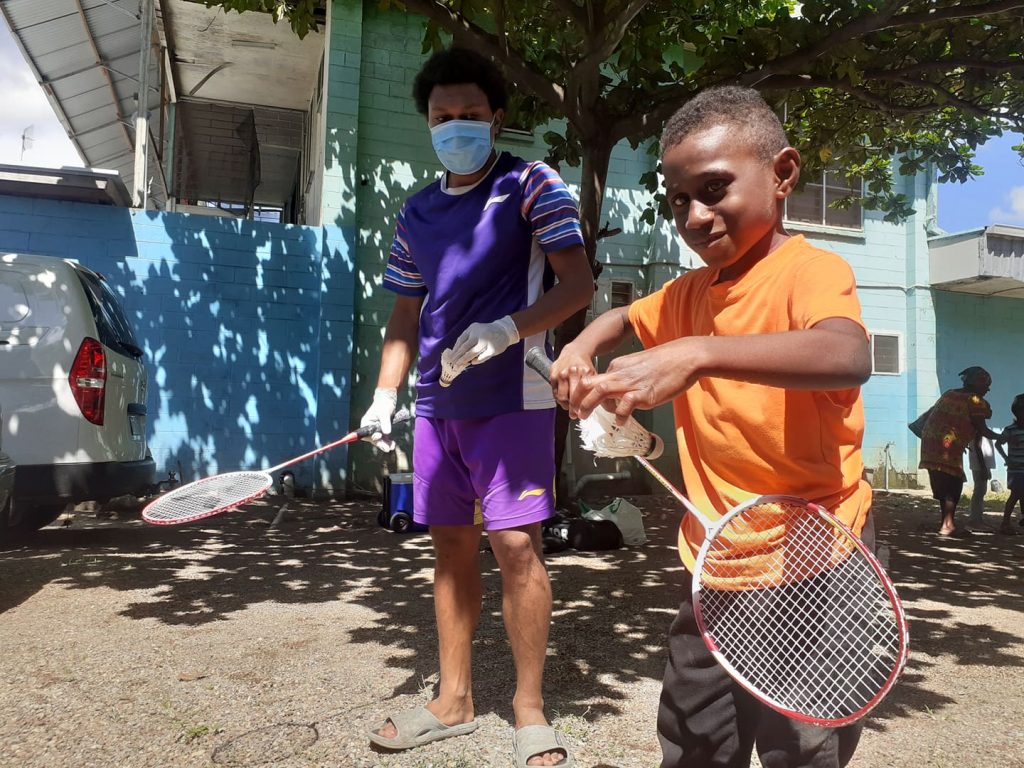 GymBad and Shuttle Time in PNG
Shuttle Time is an active part of the Inclusive GymBad sessions delivered on a weekly basis (at least once per week) to eight communities across PNG. There is a particular focus on getting women with a disability involved as the ultimate aim of the project is to remove the barriers faced by this group. Typically, the age range is between 5 to 25 years (preschool aged children to young adults).
There are currently eight communities in PNG with close proximity to Port Moresby regularly delivering Shuttle Time through GymBad.
These areas have a high population density and more human resource are available, however, there are realistic ambitions to grow once the COVID-19 pandemic relaxes.
Callan Service (a school for students aged 5-12 years) is for those with disabilities and the YWCA is a community mainly populated by single women, many of whom are mothers. These two groups are regular participants of the GymBad programme. The coaches who implement sessions here also deliver in their own communities.
Currently, the programme is restricted because of the pandemic and travel restrictions, with the main venue (Taurama Indoor Centre) going out of action towards the start of the pandemic (and remains so) as it became the main COVID response unit/hospital. Therefore, the sessions were adapted to be done outdoors in communities.
The solution was for coaches to deliver within their communities using Shuttle Time sessions outdoors, though not all communities here have disabilities. However, specific visits to Callan Services and YWCA allowed leaders to deliver directly to the target audiences too. GymBad has been delivered in communities further afield, in rural parts of PNG before.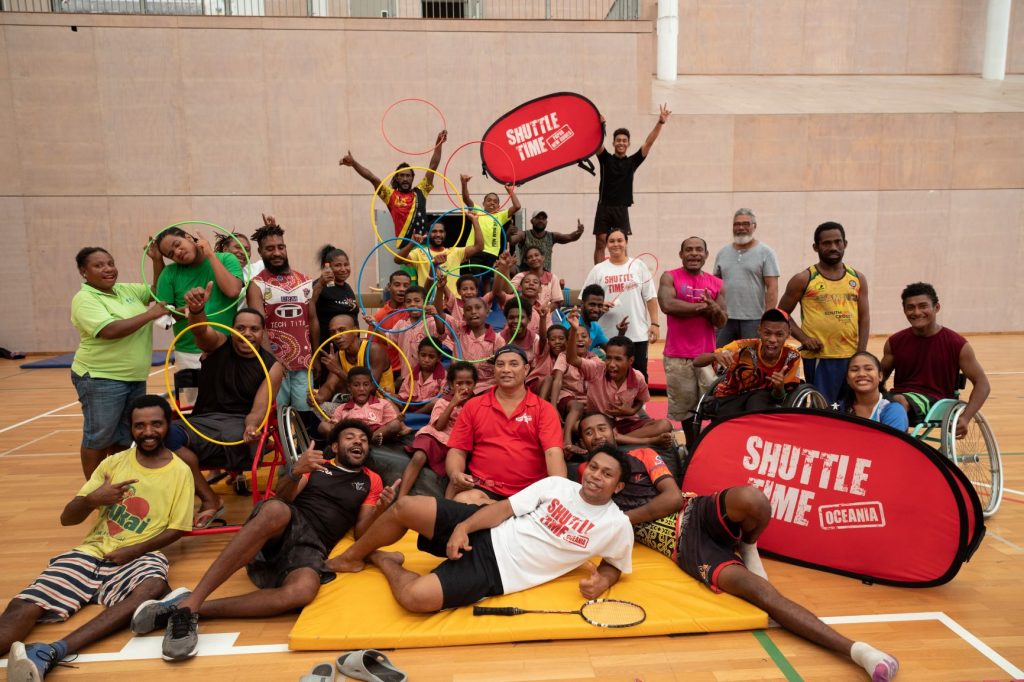 Laurel Vagi, Shuttle Time National Coordinator of Papua New Guinea said;
"The activities, resources and equipment provided through Shuttle Time make it incredibly easy for the coaches to deliver and they are accessible to the communities. It helps bring the community together and gives them something fun and different to do during the lockdowns.
"There has been very noticeable difference in some of the children's confidence and communication skills. Many of them were really shy when they started, but they have really come out of their shells with the Shuttle Time and GymBad sessions.
"Many kids have found a new passion and want to pursue badminton as an interest going forward.
"Another key outcome is the leadership opportunities it provides the single mothers in the YWCA community. We have plans to train them up in youth leadership so they can deliver to their kids, increase their confidence and find more opportunities through the skills and experience they receive.
"Linda Pulsan, a powerlifting gold medallist at the Samoa 2019 Pacific Games, is one of the key leaders of the programme, bringing her empathy and guidance as a mother, athlete, coach and role model to the sports hall to inspire participants.
"Additionally, Tokyo 2020 Paralympian (in javelin) and Para badminton athlete, Nelly Leva, was a regular participant-turned leader of the GymBad programme. She is also able to use her platform as an inspirational athlete and a woman of disability to live and breathe the core values of Inclusive GymBad.
"Moreover, Danny Ten joined Leva to become the first players from PNG to enter an international badminton tournament as they competed at the VICTOR Oceania Para Badminton Championships 2020, where Ten medalled. A lower leg amputee, he is also a key part of the leadership team, using his position to inspire participants to get involved with Shuttle Time and GymBad."
Article adapted from Badminton Oceania website.